Your Pathway to Proficiency & Profitability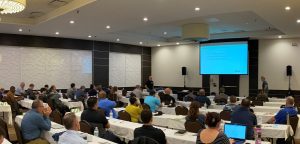 Shred School® stands as the foremost comprehensive training program, designed not only for sales proficiency but also encompassing vital operational performance, execution strategies, profit optimization, and more. Hosted by i-SIGMA®, this event offers an immersive workshop delving into diverse industry facets, market dynamics, and regulatory landscapes. This event is crucial for professionals across the secure destruction industry, from owners to drivers, aiming for holistic growth and success.
Key Information
What: Shred School 2023
Where: New Orleans, LA, USA
When: Tues & Wed, 17-18 October 2023
How: Register Today! (10% Early Bird Member Discount by Registering By 31 August)
New This Year!
In addition to all the amazing benefits of attending Shred School, including earning your Shreducation & CSDS CEU through extensive industry training from advanced trainers, this year we are adding in some new inclusions:
Meal Inclusions: Meals are on us! Don't stress about finding somewhere to eat during and after a day of networking and learning. Attendees will have lunches both days and the first day's dinner on us.
Educational Speed Networking: Enjoy a dedicated happy hour session where you can enjoy a drink while networking and connecting with event sponsors, who will share key industry tips and insights.
Board Connectivity: This year, several of your elected i-SIGMA Board members will be on-site presenting sessions, ready to address industry queries, offer valuable mentorship, and facilitate connections. Make sure to make the most of this opportunity.
Register Now »